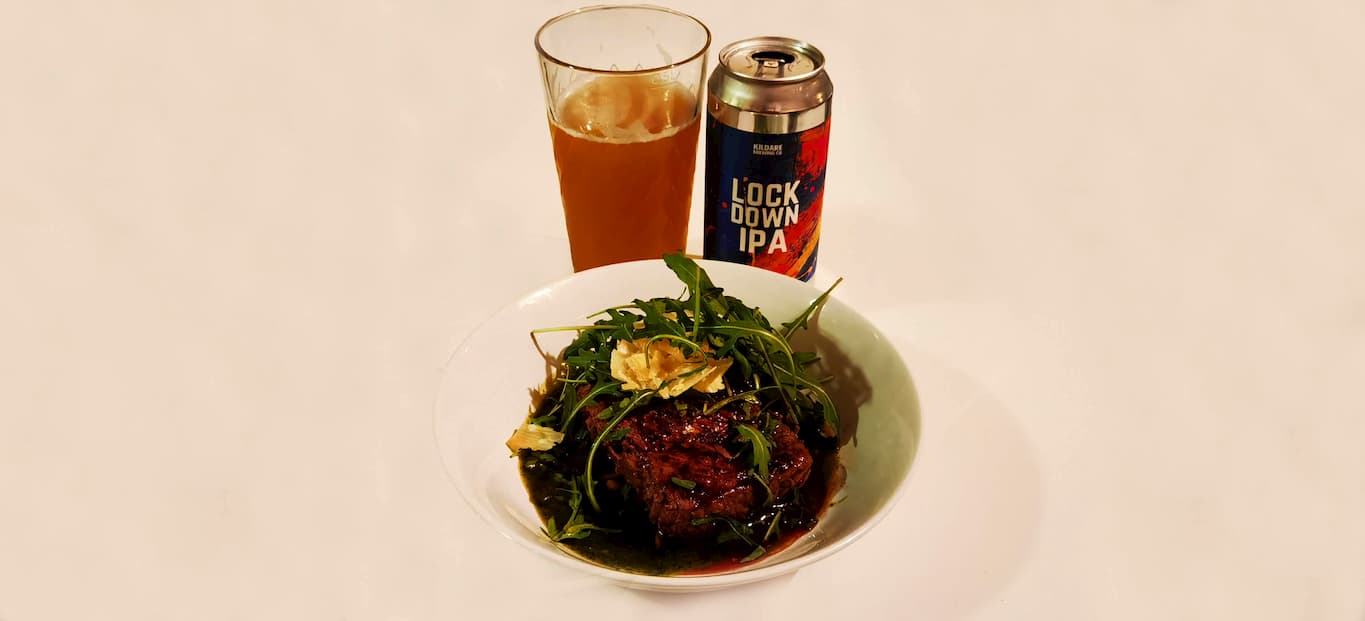 Not everything needs to be complicated. These days I think we're all learning that the simple things in life are great. Last week, the Kildare Brewing Company released their Lockdown IPA. It's a complex dry-hopped IPA bursting with fruity flavour. With the IPA complex, I sought a simple meal to pair with it. I went for a gorgeous cut of sirloin steak served on homemade pesto with a rocket Parmesan salad.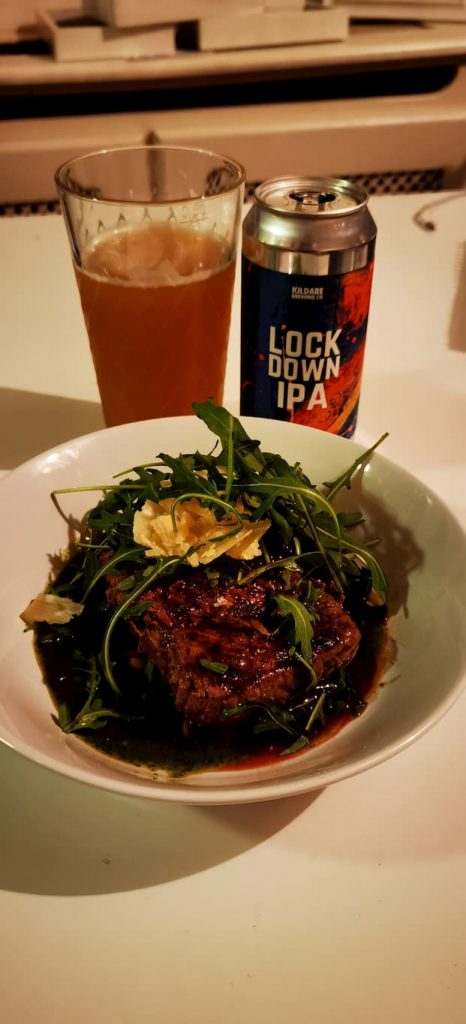 Info and Cook Time
serves 2
about 15 minutes to cook
Ingredients
What you'll need:
2 sirloin steaks
2/3 cloves of garlic (peeled)
70g pine nuts
A handful of fresh basil
washed rocket leafs
80ml olive oil
50g grated Parmesan cheese
Some more shavings of Parmesan
2 cans of Kildare Brewing Company Lockdown IPA
Recipe
Now, you can use pesto from a jar, but it's so simple why would you bother! Make your own, it's so much nicer. Knowing how to make pesto is just one of those goto recipes that's always handy have.
Cooking the steaks
The steaks were simple to cook. Get a pan up to high heat with a dash of olive oil. Season the steaks with salt and pepper then pop them on the pan for 30 seconds each side to seal the meat. Drop the heat down to medium heat and cook as per the instructions. I was cooking a medium-rare and medium steak. This took 9 and 11 minutes respectively for my steaks.
While they're ticking over, it's time to make the pesto.
How to make pesto
First thing's first. Roast your pine nuts. This only takes about 3 minutes. Get them all nice and golden. Take these off the heat and leave about 20g of pine nuts to the side – you'll need these later.
Lob the other 50g of pine nuts, 80m olive oil, 50g grated Parmesan cheese, fresh basil and as much garlic as you like (3 cloves for me) into a blender. Blend it all up until it's liquid. Boom, you have pesto.
And that's it lads. This dish is ridiculously simple
Serving
To plate up, heat up plates in the microwave for 30 seconds. Split the pesto fifty-fifty between the two plates, pop a steak onto both plates and then place the rocket on top too. Add some Parmesan cheese shavings and the rest of the pine nuts from earlier. If you want to, add a tablespoon of olive oil to the pan and drizzle the steak juices over both dishes.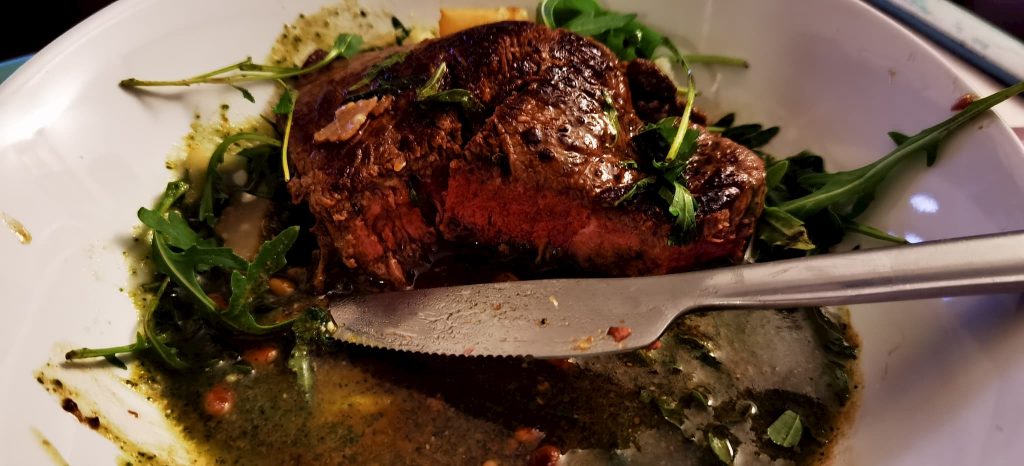 Beer Pairing
Pairing beer and steak is both simple and difficult. There are just so many beers than match the dish. For a run of the mill pairing, you could go for a Belgian beer. For this one, I looked beyond the meat to the peppery rocket and the pine nuts along with the gorgeous aroma of basil.
The mixed hops of the Lockdown IPA complement the entire dish. It's not a light salad. It's a powerful pesto with added peppery flavour from the rocket. Lockdown IPA is floral and fruity. It's dry-hopped with Citra, Centennial, Cascade, El Dorado, Simcoe and Amarillo which means there are bundles of flavour.
Mixed with your homemade pesto, this is an aroma experience to behold.
Buy This Beer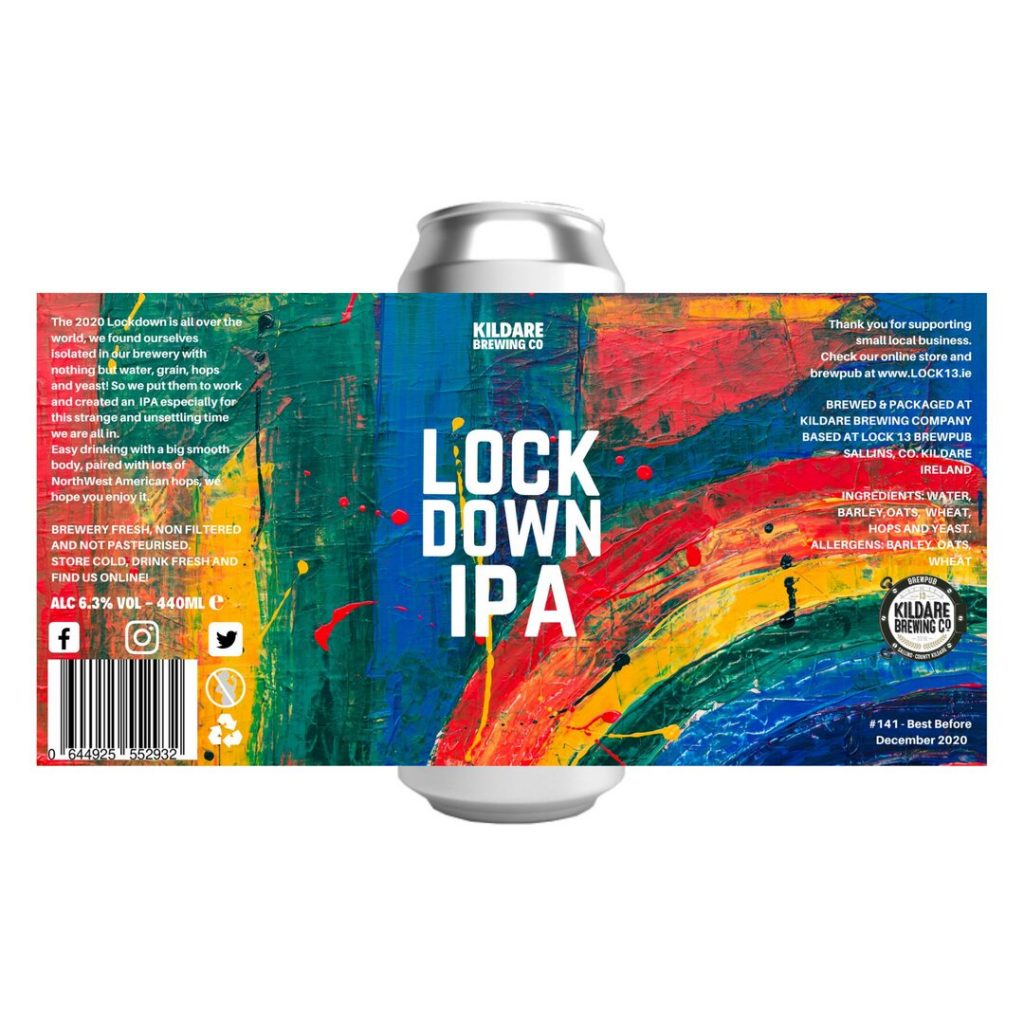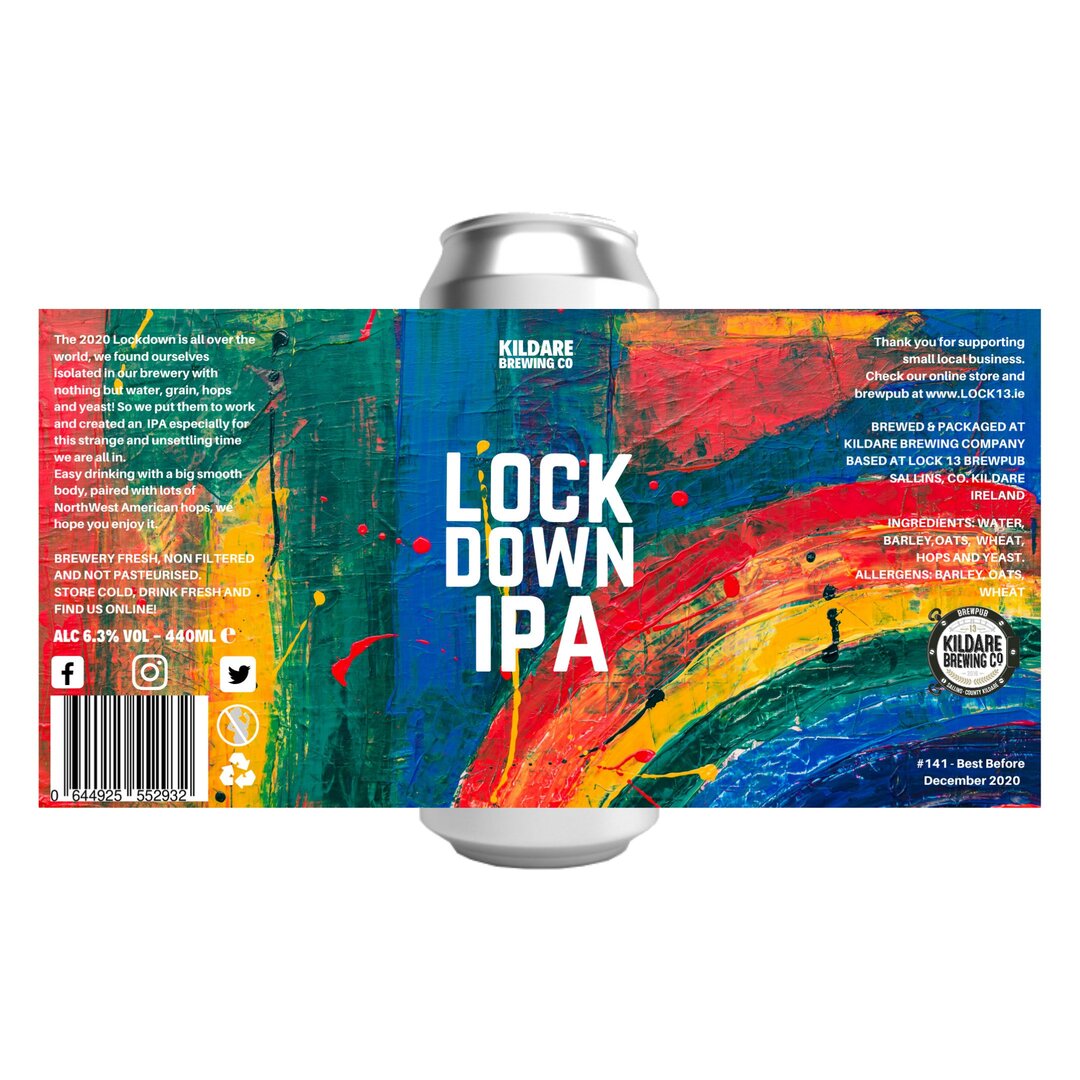 Lockdown IPA
---
| | |
| --- | --- |
| Brewery | Kildare Brewing Company |
| Where? | Molloy's Off-license |
| How much? | ~€3.20 |
| Special offer? | No |
| Vessel | 440ml can |
| ABV | 6.3% |
| Delivery? | Yes |
| Delivery Fee? | €7.99 |