This recipe was neither created nor cooked by me. It was cooked by my better half from a recipe in Chrissy Teigen's Cravings: Hungry for More cookbook. There were a few on the fly amends made. All in all, it was so good, I had to share the recipe and the incredible pairing with Rascals Big Hop Red Ale.
Info and Cook Time
Serves 4
1 hour 15 minutes
Ingredients
What you'll need:
3 tablespoons extra virgin olive oil
2 large onions
15 cloves garlic
1 cup apricot jam
2 red chillies
Salt
Black Pepper
8 chicken drumsticks
1 or 2 cans of Rascals Big Hop Red Ale (depending on the audience)
Recipe
To get started, get that oven up to around 220 degrees celcius.
Take out a large skillet, pour out the oil onto it over a medium-low heat. You don't need to chop either the onions too finely or worry about doing anything fancy with the garlic. My better half cracks the garlic to ensure flavour escapes. Lob your onions and garlic into the pan. Let it cook, remembering to stir often, until they are soft and golden. It'll taken in or around 20 minutes.
Next up, get the apricot jam into the pan. This jam, seriously, just came from Lidl. It's nothing fancy and quite possibly it's the jam your parents or housemate accidentally bought that's in the back of the press. Finely chop your chillies and bung them into the pan too. Give it all a good stir until the jam melts – that should take about 30 seconds. Lightly season with salt and pepper.
Time to prep your baking tray. Pour the sauce you've just made into the tray. Season your chicken drumsticks with salt and pepper before lining them up in the tray. Using a spoon, scoop the sauce up and over the drumsticks. Get it all up over it.
The final step is somewhat predictable. Get all that goodness into the oven and bake until you see that sauce bubbling. Every 15 minutes, get the spoon in there and scoop the sauce back up over the chicken. You're aiming for the chicken to be cooked through and the skin to be somewhat crispy. This should take around 40 minutes. You might want to hit the tray with 2 or 3 minutes under the grill to crisp them up.
Finally, give the sauce a taste. Season the whole tray with salt and pepper, but only if you feel it's needed.
Serving
We kept the serving of these drumsticks really simple. Place 3 or 4 drumsticks on a plate and drizzle that amazing fruity sauce over them again. On the site, some thin-cut fries, seasoned with paprika mixed with salt.
Beer Pairing
And for the really fun part. Pairing a beer. I was a late comer to Ales if I'm honest. Being a Kilkenny man, that's quite the shocker given we're the home of Smithwicks. However, today I appreciate a nice Ale as much as anyone, in particular Amber or Red Ales. Rascals, a Dublin-based brewery founded in 2014, has once of the mightiest craft Red Ales on the market.
Rascals' Big Hop Red delivers refreshing zest hit with touches of sweetness too. The fact that sweetness isn't overpowering is what makes this a match made in heaven. The chicken drumsticks are gorgeous and have enough sweetness on their own. If you can get that crispness down to a tee the rewards and there to be had once you quench your thirst with a stunning mouthful of Big Hop Red. We used fairly tame chillies in this recipe so don't be afraid to ramp that up if you like heat. The Rascals has plenty of punch to put out the fire.
This was one of those pairings that left me looking at my glass and by plate, wondering why everything was vanishing so quickly.
*****
A hoppy red ale, a smash up between zesty, piney hops and sweet caramel malts. Big Hop Red is late and dry hopped with lots of American aroma varieties; Cascade, Chinook and Equinox. The hops offer pine and resin on the nose with lots of fruity citrus, pine and resin in the flavour which is finely balanced by caramel and biscuit malt notes.
Hoppy and malty, the best of both worlds!
---
Buy This Beer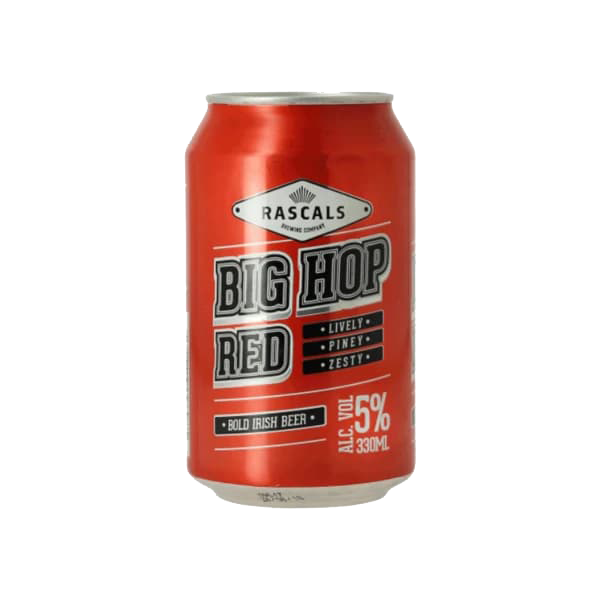 Big Hop Red
---
| | |
| --- | --- |
| Brewery | Rascals |
| Where? | Craft Central |
| How much? | €2.99 |
| Special offer? | 4 for €10 |
| Vessel | 330ml can |
| ABV | 5% |
| Delivery? | Yes |
| Delivery Fee? | €4.99 |