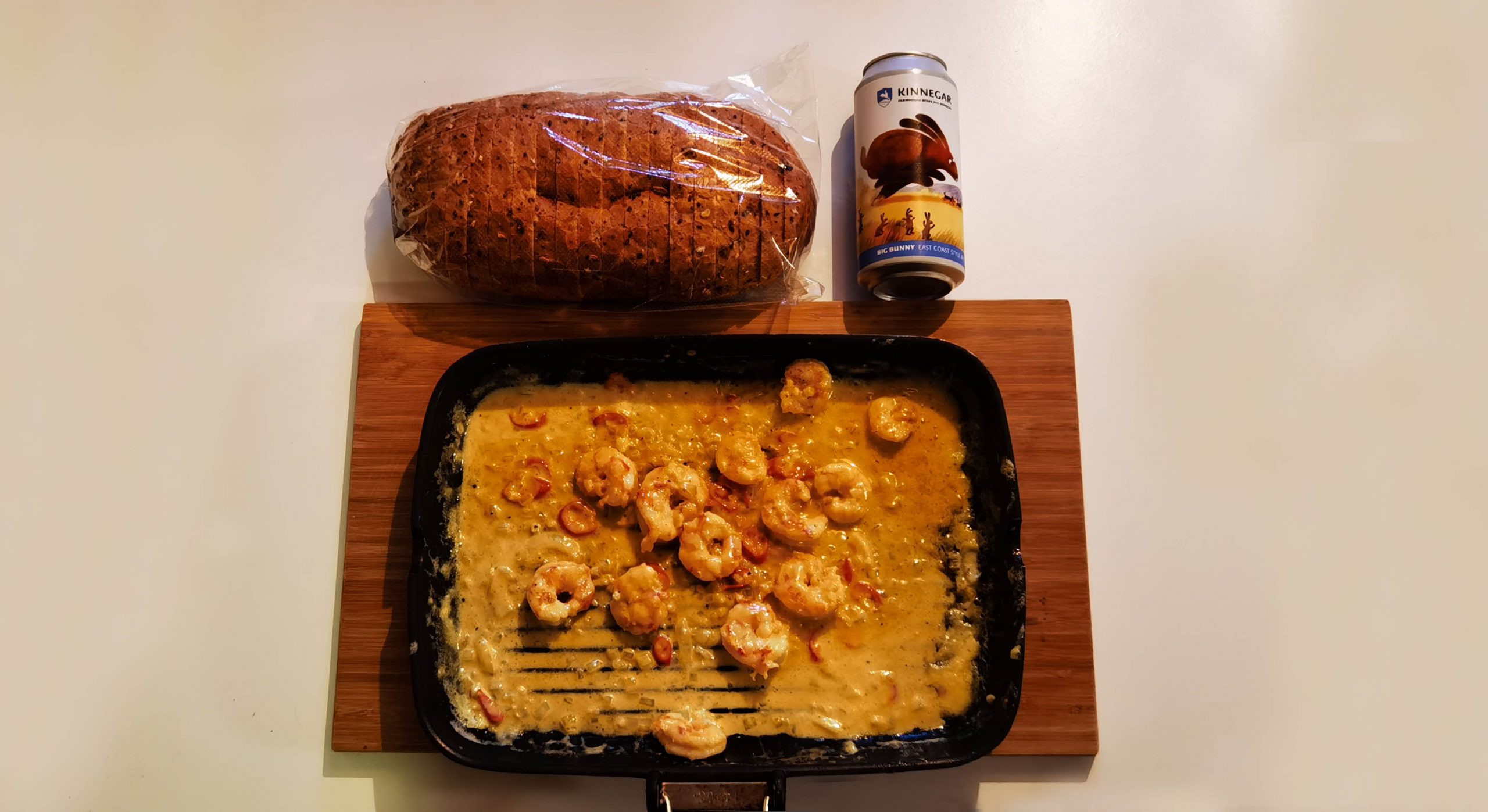 Reverse engineering can be a lot of fun. That's what I'm about to show you. A reverse-engineered recipe. I can't take credit for it though. I first came across it in Masterson's Steakhouse, Swords, three years ago. Since that first encounter, a friend of mine, Nigel, has done the reverse engineering side of things. This sizzling creamy spicy prawn recipe has become one of my goto favourite dishes and I thought it only right I pair it with the perfect beer for the job.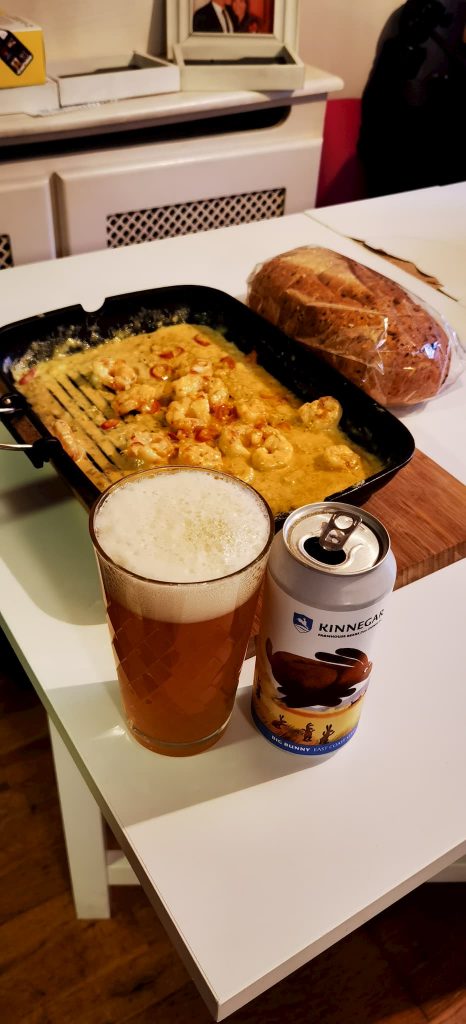 Info and Cook Time
serves 2
takes about 20 minutes
Ingredients
12 prawns (feel free to add more)
A nice loaf of bread (ciabatta)
250 ml double cream
a squeeze of lemon
2 small shallots/onions
3/4 cloves of garlic
1 proper hot red chilli
Recipe
The reason I love this recipe is the flavour, the simplicity and the ingredients. Without further ado, let's tuck in.
The Creamy Sauce
Grab a pot and get it onto a low heat. Add your chopped shallots with a wee bit of butter. You want to sweat them, not cook them. Basically, avoid them getting brown.
Now, add the double cream and give the lot a stir. Next, finely chop the red chilli and get that in the pot too. Stir again. Get some salt and pepper in there, but make sure you taste it all to get the balance right. If you have some fresh parsley, it's optional, but now is the time for that too.
Let that simmer away for about 8 minutes, but don't let it boil.
Cooking the Prawns
Ideally, you're going to need a skillet for this, but a pan works too. Get the pan up to medium heat and melt in a knob of butter. Drop the prawns in with some salt, pepper and lemon juice. Leave them to cook for about 5 minutes and give them the odd turn.
Get the skillet up to a high heat and add the sauce to the prawns. About 5 minutes later, the sauce is reduced and the
Serving
I love to serve the skillet on a timber chopping board and eat the prawns straight off. It's a stunning shared dish. You've simply got to serve with some nice fresh, crusty, bread. If you do this, you'll likely not even have to clean the pan because the sauce combined with bread is nearly why you make this, not the prawns.
Beer Pairing
I've made this recipe a few times and it never fails to impress. The one criticism I've had is when I buy a crap chilli. In my opinion, if you're buying your red chillis from a supermarket, they're likely not going to be hot enough. Get down to a speciality store or Asian market. Here, you'll find proper chillis with proper heat.
Once you manage that, the beer pairing gets quite easy. Many will opt to pair a spicy dish with a cooling beer, like a lager or German beer. I prefer to pair spicy food with something that ramps up and complements the heat. To do that, you want a beer with a bit of bitterness to it.
I went with the Big Bunny East Coast IPA from Donegal-based brewers Kinnegar. Big Bunny is a gorgeous hazy IPA. It pours lovely with a massive head that goes nowhere for an age. That head-retention means the aromas are going nowhere until you're ready for them. The Big Bunny has big flavour too. With a 45 IBU, it's a somewhat middle of the road East Coast IPA in terms of bitterness, but it's the overall combination of fruitiness and bitterness that tackles the flavour of the sizzling spicy prawns.
I've already paired some foods and plan to pair many more. But this is one of the safest bets if you want to impress someone. If the food doesn't get them, the beer will. If the beer doesn't get them, the food will. However, chances are both will appeal and you'll blow their minds.
---
Try This Beer
Big Bunny
---
| | |
| --- | --- |
| Brewery | Kinnegar |
| Where? | Craft Central |
| How much? | €3.75 |
| Special offer? | No |
| Vessel | 440ml can |
| ABV | 6% |
| Delivery? | Yes |
| Delivery Fee? | €4.99 |