When it comes to patron saints in Ireland, as a beer lover, it's hard not to have a special place in your heart for St. Brigid. Now that the Irish government is proposing a new holiday day in February on St. Brigid's day, it seems only right we spend some time learning about our new favourite patron saint. There's lots of great beer-related stuff here too so it's not all about a new bank holiday coming off the back of dry January.
Turning Bathwater into Beer
Let's start out with the essential story of St. Brigid; she turned bathwater into beer.
Today, beer is enjoyed as a luxury. I mean that within the historical context of why people drank beer. Nowadays, we don't have to drink beer. But that wasn't always the case. In olden times, water was often undrinkable. Brewing it into beers, ales and meads made it safer than water to consume, once not done so in large volumes. Indeed, this is why it was a staple of the Vikings who brewed strong meads for adults and weaker ales for children to hydrate with. It just happened to complement the salty foods within their diet, where salt was a preservative.
Even before the Vikings came to Ireland around 795AD, we had St. Brigid. She was born in Dundalk in 450 AD and founded the first Irish monastery in Kildare. Water in the area was often polluted and either undrinkable or caused widespread illness and death.
It's odd that we've connected her buddy St. Patrick to alcohol given that it was St. Brigid that had the eye for brewing. She could brew beer in bathtubs, legend saying she didn't it almost like magic. On one occasion, she turned the bathwater of lepers into beer and another time it was baths of beer for visiting clerics.
While Jesus turned water into wine and feed the many from just a few loaves and fish, Brigid did the same with beer. During one Easter season, it's said that she provided enough beer for 18 churches from just one barrel of beer. What a legend.
You Can Drink Brigid's Ale Already
There is already some ale being brewed in Ireland, dedicated to St. Brigid. Susan and Judith Boyle and fifth-generation publicans. The two sisters from Kildare took it upon themselves to honour Brigid. With the help of local brewery, Trouble Brewing, the sisters brewed Brigid's Ale. It takes more than inspiration from the locality, also depending on local supplies. The sisters opted for barely grown and malted in Kildare, water from Kildare and even Kildare honey from local bees.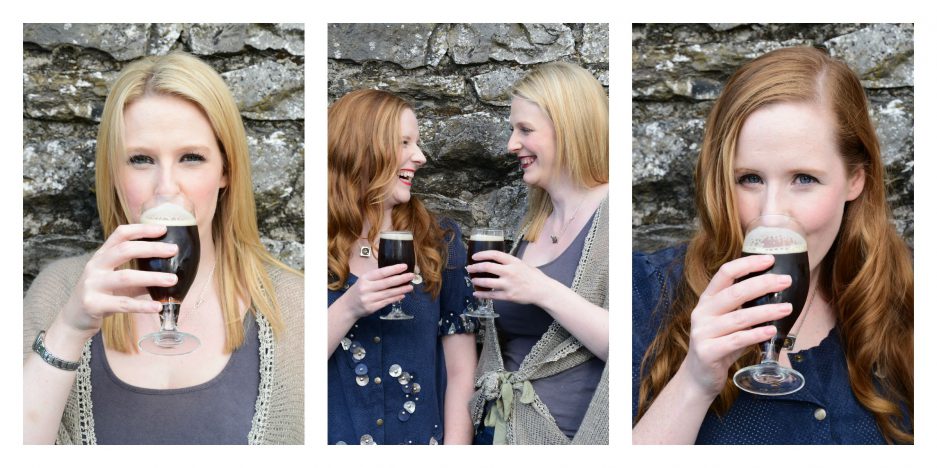 She's Ireland's Only Female Patron Saint
Along with being the reason the country is full of woven crosses, she is one of the Patron Saints of Ireland. Along with St Patrick and St Columcille. She's the only female patron saint and many would argue she's long overdue having a bank holiday dedicated to her. Her first big day comes on February 1st 2023 when the Irish Government plans to start a new annual bank holiday, commemorating St. Brigid and those lost, along with the effort of the many, during the Covid-19 pandemic.
St. Brigid's Burial Site
Despite, or perhaps because of, her fondness for brewing, St. Brigid lived till the ripe old age of 75, dying in 525AD. She was buried in the same Kildare church she founded before being exhumed and buried at Downpatrick with St. Patrick and Columcille.
St Brigid died at the age of 75 in AD 525 and was buried in the church she created. Her remains were exhumed years later and brought to Downpatrick to be buried alongside Saints Patrick and Columcille. However, her skull was brought to Lisbon where it remains today.
But there's more.
The head of St. Brigid was brought to Portugal. Three Irish Knights brought her head to Lisbon. When King Dinis wanted to have it kept in the convent of Odivelas, but it was instead placed in the church at Lumiar. It remains there today, though it's believed a fragment was brought to St Bridget's Church, Kilcurry. This happened in 1905, with the fragment being brought home by Sister Mary Agnes of the Dundalk Convent of Mercy.
It's fitting that Ireland finally gets a female patron saint being honoured with a bank holiday. It's even more fitting that it's St. Brigid and that it's now how we'll end dry January. I'm already looking forward to what marketing the Irish craft breweries will be churning out for the big day on February 1st 2023. Personally, I'd love to see a stronger connection between Ireland and the Belgian beer style. They've such similar vibes, history and religious connections.