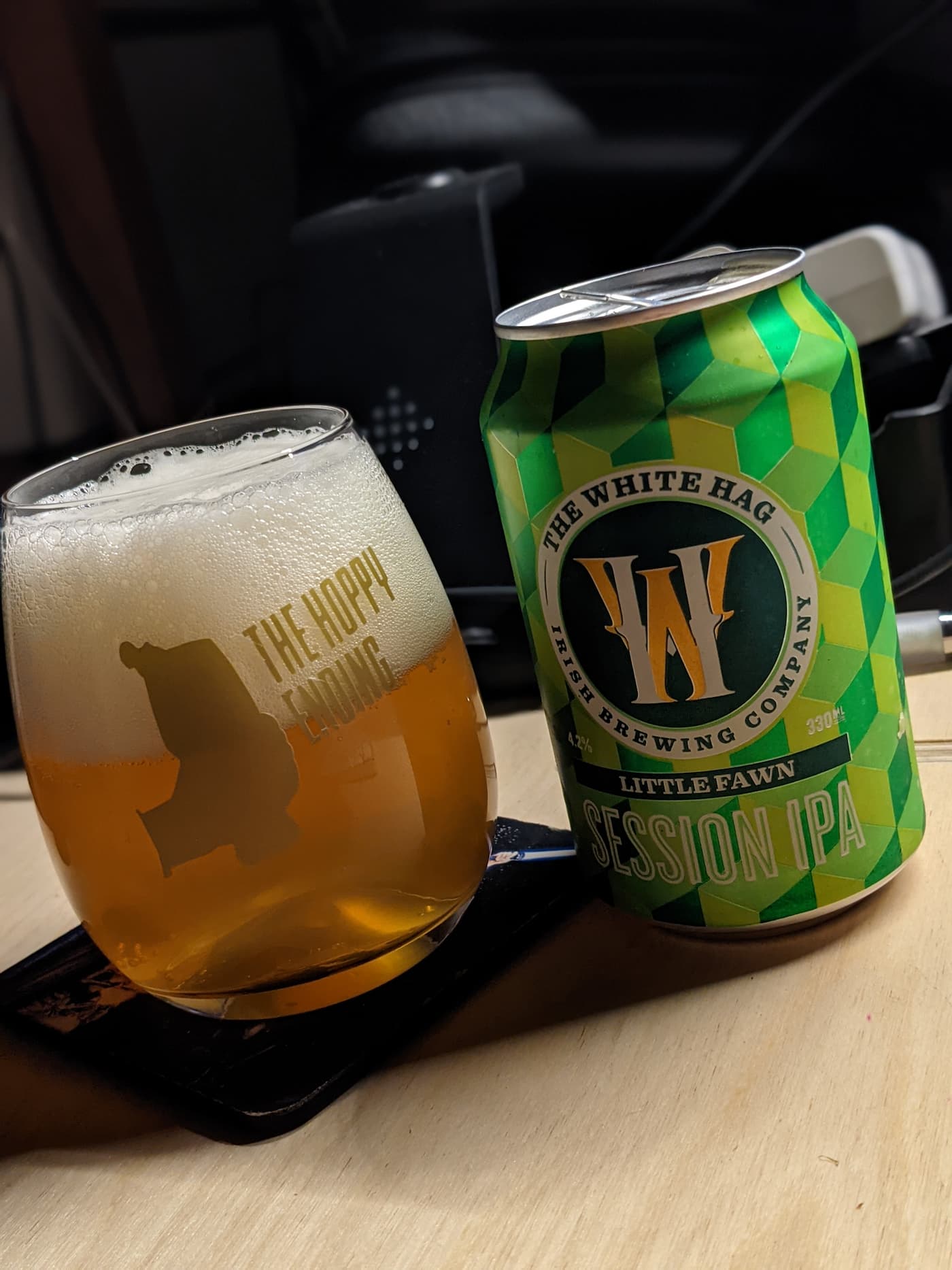 Something wonderful has happened this week. Lidl has taken delivery of some fantastic craft beers and is selling them around the country. Not only that, but the vast majority of them are Irish brews too! This is fantastic news for the Irish craft brewing scene who could, and should, land into the trolley of inquisitive shoppers around the country. I feel my lockdown of sampling all of these beers has led to this moment. I'm going to rate all of the beers Lidl has brought in but also give you a little steer on what they'd go well with. At the end of the day, you're planning your meals when you shop in Lidl, so you should be planning your beers too!
Little Fawn Session IPA – The White Hag – Sligo
What a smashing beer this is. For me, it's everything you want from an entry craft beer. It's got the complex flavours that let you know you're in flavour country, but an ABV (that's the percentage strength to you and me) that's not going to leave you regretting all your life decisions the next morning.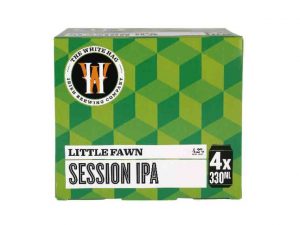 Little Fawn is a Session IPA, and the goal of a Session IPA is to deliver flavor without being too strong. Many Session IPAs achieve one of these goals but all too many of them have tasted watery or ended up in a can with 7% stamped on it. This is a staple beer from The White Hag team in Sligo. I'm fortunate to have tasted this in the same room it's brewed in and I can tell you it's just as nice from a can. It's fruity but with enough kick to remind you this beer hasn't been produced en masse. It's been crafted by people who drink it.
When you crack your can, stand back because it's filled to the brim. The White Hag does this to reduce the amount of air that sneaks into the can. Air and light are two things that craft beer doesn't like, so a full to the brim can mean you've removed the two big threats to your trip to flavor country.
It's rare that a trip to my local off-license or an order on Craft Central doesn't include a Little Fawn.
Drink Little Fawn With:
The reason I love this beer is that while complex, it's just so versatile. The fruity notes are subtle and the kick refreshing enough make this the perfect partner for burgers, hot-dogs and even pizza night.
Buy the Little Fawn 4-pack for €9.99. That's €2.50 per 330ml can.
XXXX Full on Stout -The Porterhouse Brewing Company – Dublin
You might feel it's brave for Irish breweries to create stouts. Ireland is, without question, the home of stout. Naturally your mind turns to Guinness, Beamish or Murphys but in the comfort of your own home, can you ever say you've had a good can of stout? This is where the craft breweries come into their own.
This little number from the Dublin-based Porterhouse Brewing Company sums up the point I'm trying to make. Taste speaks a thousand words so please do pick one up if you're a stout drinking and let me know what you think. Full on Stout pours as a gorgeous black velvet with a fairly thick head. You won't get the beautiful engineered "Priest collar" contrast that a pint of plain down the local gives you but you do get something else. Flavours like standard stouts could only dream of delivering into your home.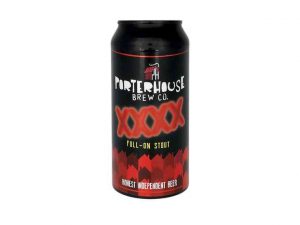 Full on Stout smacks sweetness, chocolate almost and pangs of coffee. Let the flavours bounce around a bit as your drinking it and see if you can spot them all.
I still enjoy Guinness, but it's time we all try something else that's even more home made than the now British Diageo-owned Guinness. I couldn't feel safer offering up a stout than this entry from The Porterhouse which, at 5% ABV, is very drinkable.
Drink Full on Stout With:
In a perfect world, I'd say oysters or mussels, but they are two divisive foods to be fair. Also goes nicely, quite simply, with a few slices of buttered soda bread. Might be a bit sweet for your typical stew pairing, but go for it. It's your own taste journey!
Buy the Full on Stout for €2.79 per 440ml can.
Off The Hook German Pilsner – Brú Brewery
One thing I've spent a lot of time discovering over the past 12-months is what beer types actually exist. For example, what the bloody hell is lager? Wait, pilsner? What the hell is the difference? Well, a pilsner is a lager, but not all lagers are pilsners.
Ultimately, who cares?
If you've typically been drinking the likes of Heineken or Carlsberg, this might be a good starting point for you. What I've found myself is that generally, I'm not a massive fan of lagers or pilsners at all. I like quite big and beefy heavy-hitting, nearly chewy, high-ABV ales. But there's an important place in the world for brisk, refreshing lagers and pilsners, particularly those German in style, but I'm biased. I've drank a lot of German beers. Even before getting really into craft beers, I could appreciate that German beers were beating the likes of Heineken, hands down.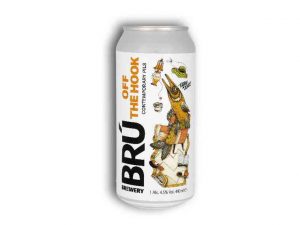 This one is exceptional, and indicative of the work that Brú Brewery does in general. It's massively refreshing and what you'll notice is that familiar taste of beers you know but with a little more flavour intensity for you to appreciate.
Drink Off The Hook German Pilsner With:
This is another very versatile beer. It sits perfectly on the table beside pizza, kebabs and many other dishes. When I picture a time I'd reach for one of these would be barbecue season. If you're firing up the grill, regardless of whether you're grilling steaks, chicken, veggies or anything, a nice cold glass of freshly poured pilsner is just amazing.
Buy the Off The Hook for €2.79 per 440ml can.
Ninth Wave New World Pale Ale – The White Hag – Sligo
I was debating whether or not to give a brewery a second mention or not, but this just has to get a look in. The White Hag has three beers on show in Lidl. Little Fawn is, to be honest, a must-try. Hazy IPA is a solid beer too and one of the first I reviewed, even if that was as more of a tech interest than anything else.
The third beer they have in there is hard to place. It's called a "New World Pale Ale" and I'm going to be totally honest with you when I say I've no idea what that means. To me, it's an amber ale but don't start thinking about Smithwicks either, because red ales are a different ball game. I might be wrong, but it's more like a Belgian beer than anything else or at least that's what I got from it.
And this is the start of it for you too. If you were a fan of Pokémon, you'll love craft beers. There's a feeling that you need to catch 'em all. All those flavours and all those different coloured cans. You'll pick up beers and start to find things you think you like. For me it was think beers you couldn't see anything through. You start to pick out characteristics of the beer your drinking, learning what you really enjoy about them and, more importantly, what you dislike.
The White Hag's Nineth Wave New World Pale Ale could be a couple of styles, but I know for sure when you should be drinking it.
Drink Ninth Wave New World Pale Ale With
I had this with a lovely pasta dish. My logic was that it reminded me or Belgian beers and they always seem to go really well with pasta dishes. Particularly if it's a green pesto dish. There's no strict rules here and that's the beauty of craft beer.
Buy the Ninth Wave New World Pale Ale 4-pack for €9.99. That's €2.50 per 330ml can.
Bonus: Ninth Wave Dramatic Video
Will Lidl Be Stocking Craft Beer From Now On?
It's important to note that Lidl has been stocking craft beer for some time. Both McGargles and O'Hara's are Irish brewers too. The latter, O'Hara's is from Carlow and even has their own pub in my native Kilkenny. I've, perhaps unfairly, not looked much into this beers because they are staples in Lidl now and have been there for quite some time.
The big question is whether or not these new beers get to stay and play. Right now, the Lidl website has a Craft Beer section much like they usually have for their special event sales. The bad news is that these often come and go. The good news is that they usually come back and from time to time, they bring staple items for the core range.
For now, it's over to you. Get down to your local Lidl and show them you want this beer. You're supporting Irish breweries who've had a tough time of it. You're tasting a much nicer beer than most of the stuff on the market too. You probably have a budding beer sommelier inside just bursting to get out. Stop resisting! And yes, beer sommelier is a real thing!
If you get there and it's all sold out, I have some great news. You can buy this stuff online all the time and it's not that expensive. I regularly put in orders with Craft Central or directly with breweries themselves. You'll find online shops for The White Hag or even a couple of tap houses in Dublin for the likes of Brú and The Porterhouse. When you follow The Hoppy Ending on Instagram, we'll tell you the beers we're loving the most so you can find them either in your local off-license or buy them online! It's a beautiful system really.
Other Honourable Mentions
Looking at the selection in there, I'd also be picking up a few other lovely beers. Renegade, a New England IPA by The Porterhouse Brewing Company is a whopper. It could fit into anyones regular rotation.
Sierra Nevada Pale Ale, while not Irish, is the original gateway beer that non-craft drinkers often end up sampling and transitioning with. It goes with everything and pleases nearly everyone.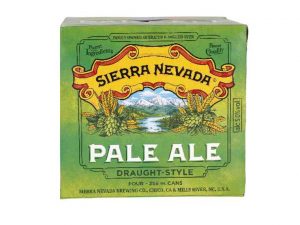 I've been a bit bad time with Brewdog lately and am disappointed to see Punk IPA deteriorate in recent years. I would say that and Dead Pony Club are the beers on the shelf you should avoid. To balance things out, Brewdogs Elvis Juice and Hazy Jane are cracking beers that still do the Scottish brewery proud.
There you go now. Off with you to try some lovely beers. Be sure to follow us on Instagram for your regular fill of tidy brews.