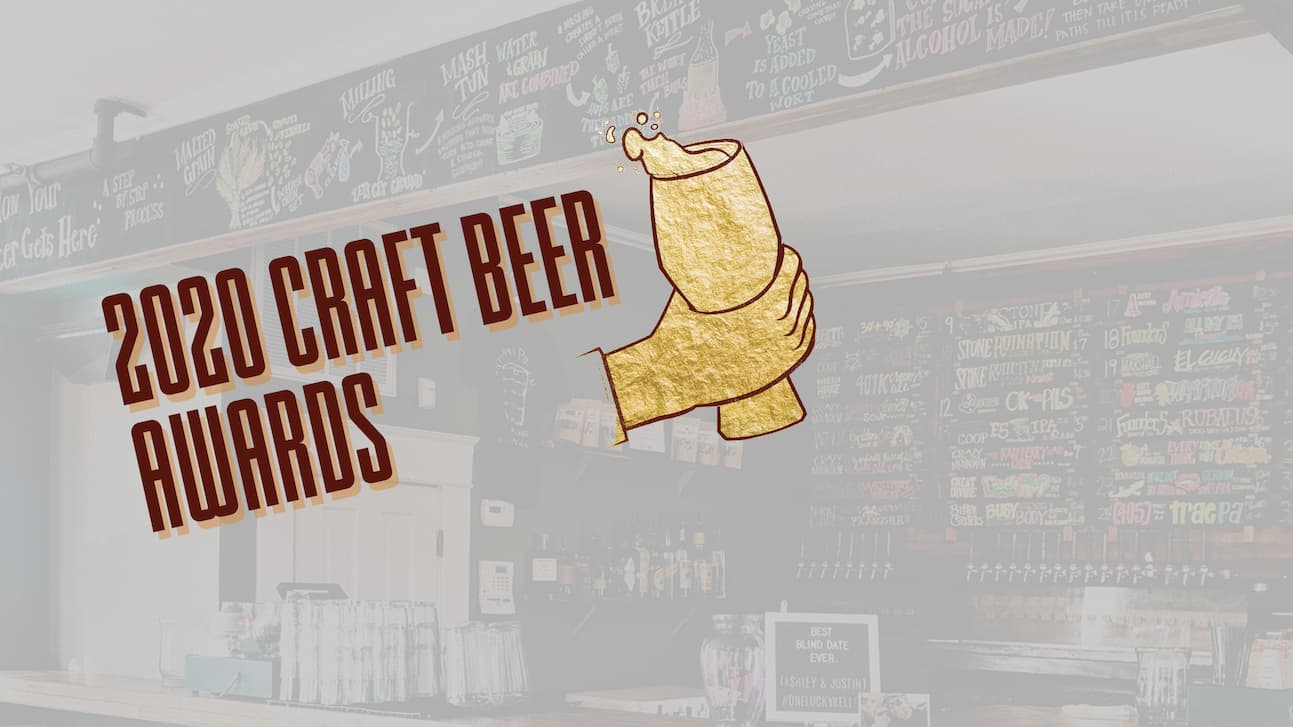 Well now. It's been a hell of a year. I remember starting to take craft beer much more seriously this year. I've been a fan for many years, but 2020 was the year where I started The Hoppy Ending and taking notes on the best (and worst) beers on the market. It's been a fun foundational year but 2021 will be bigger and better than ever!
The Hoppy Ending's Annual Craft Beer Awards
While it was an odd year, I want to celebrate the very best of what I've sampled over the past few months. And with that notion, came the birth of The Hoppy Ending's Annual Craft Beer Awards.
Without further adieu, let's get underway.
The Best Craft Beers of 2020
To kick off, I'm going to go through the very best beers I've tasted this year. Some of them have grabbed my attention for repeat purchases while others remain elusive single sips never to be sampled again.
Best Pale Ale: Trouble Brewing – Ambush IPA
I've seen it sold out more than it has been available. I've wandered these city streets seeking cans, growlers or any other container I could find containing this simply gorgeous juicy IPA.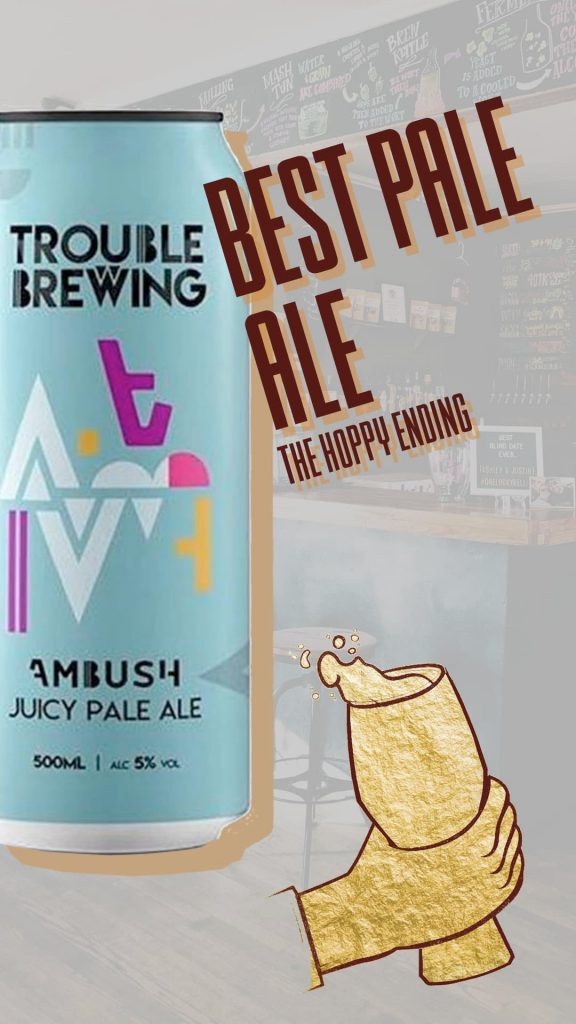 Ambush IPA was fantastic regardless of the container I got it in. Fruity flavours that kept my slightly immature palate pleased but complex enough to bring me along for the journey. I feel this will stand the test of time but I'll be sure to test that myself too. Strenuously. Ambush IPA is one of the top answers to give when someone who's new to craft beer wants to grab a few cans to see if it's for them. Safe has houses for the newbies but enjoyable for old dogs too.
Best New England IPA: The White Hag – Atlantean
What can you actually say about this beer. It's perfection. When I was starting out with craft beers, I'd no clue what I liked in terms of categories. Atlantean is the beer that made me realise NEIPAs are probably my favourite "go to" beer.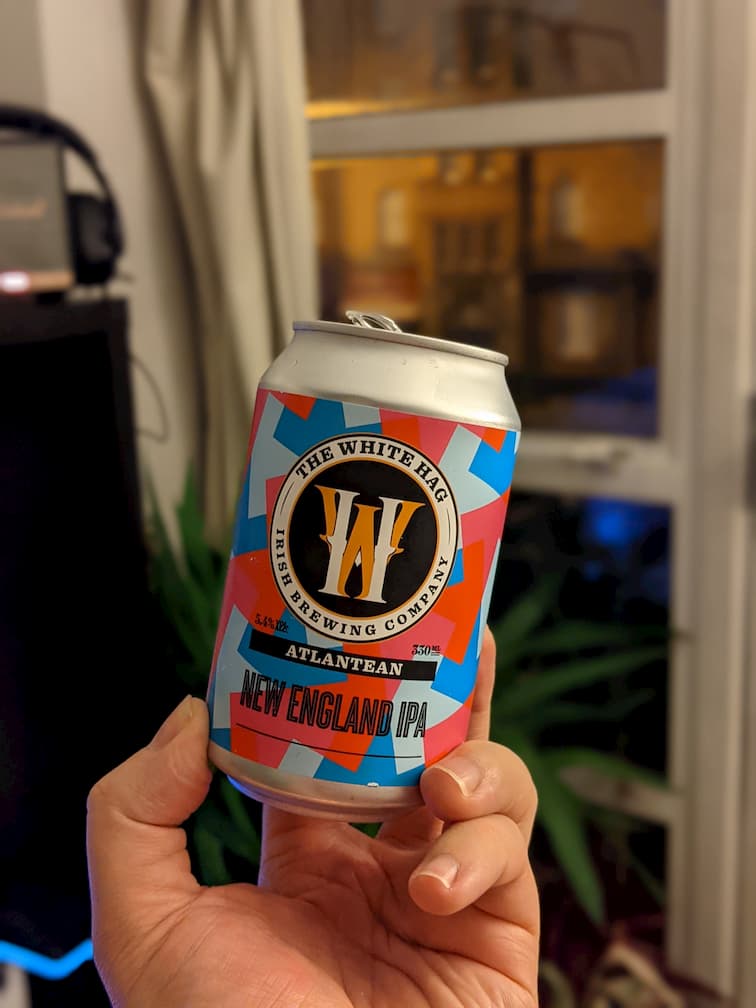 Atlantean is fruity, juicy and foamy. It luscious. If your thirsty, this will quench it. If you're not, it'll leave you wanting to knock back another. I just cannot put into words how much I love this beer. Which, in hindsight, is problematic for a man who's trying to type up a beer awards piece.
Atlantean is the must have beer in the fridge. It'll pair with nearly everything, please nearly everyone and taste fantastic every single time. I've had it at source and can. It just never fails to please.
Best Session IPA: Whiplash – Rollover
God damn, I love Whiplash beers. It's been an awful year in general, but it's been a mighty beer for Irish craft brewers.
It's been an awful year in general, but it's been a mighty beer for Irish craft brewers.

Marty, The Hoppy Ending
First of all, respect to Whiplash for not taking the absolute Michael with the ABV here. There's been a few "Session" IPAs which caught me off guard, but at 3.8% this is sound.
I'm not even trying to hide the fact that I have the palate of a ten year old as Rollover is yet another fruity ticket to tasty bliss. Again, to remember when I was getting going in craft beers, hazy was a good sign for me. Just generally, hazy beers were tasty beers. I'm a simple man. This is very hoppy and juicy but doesn't level you like others of equal flavour profiles.
Best Double IPA: Kinnegar – Double Bunny
This was a very tough category. I just love DIPAs. I love dank hoppy murky drinks. Some end up like soaked wet towels but others thread the lines much more carefully and end up as sips of heaven.
To be honest, I'm probably most surprised that Double Bunny takes this category. Not because there are any question marks about how amazing Double Bunny is but because it doesn't have the dank as much as I would typically love.
It's (yep, you guess it) a fruity beer that goes down easier than any other DIPA. The reason for that fruitiness is obviously down to this DIPA being modeled on the Big Bunny NEIPA and yes, you're seeing a pattern.
I never said my personal tastes wouldn't lead this awards show astray.
Best Triple IPA: Drunks Bros – Hop Eruption
Is this an Irish beer awards post? I'm not sure. It's mainly Irish, sure, but for me a lot of this happened because of one lonely night in Barcelona.
Just before 2020 fell apart, and I mean like the weekend before Barcelona started seeing spikes in cases, I found myself alone in a small bar in Barcelona, a bar called Nemesis. Few points of naivety here:
My mam would kill me for being where I was alone
No-one knew what was around the corner with COVID-19
I still had no idea what the difference between a NEIPA and a IPA was
I waltzed into this bar, big Irish head on me, and asked for the most popular beer on the menu. I was given a glass of Drunken Bros Hop Eruption and my life changed a little bit. It was mighty stuff. Very strong, but my love to the murky dank beers was born. You can call it a Triple NEIPA all you want but there's just hints of fruit left here providing a magical balance of hair growing on your chest and more falling off your arse.
This beer didn't win my beer of the year, but it's likely to be a beer I'll remember forever. Honestly. It's the beer that made me realise I love beer in a very real and nerdy way.
Also shout out to the bar staff. That night, I had to pick between Brewdog Barcelona or Nemesis and I made the right call.
Best Red Ale: Rascals – Big Hop Red
I'm a Kilkenny man. That's the only way I can start this award. Even as a Kilkenny man, I only discovered Smithwicks very late in life – a few years ago in fact. To be frank, I was drinking shite beer for years and Smithwicks was the drink along with Guinness that got me appreciating flavour (not saying they're the pinnacle by any stretch of the imagination).
All of that said, I'm making the point that Red Ale is important to me. I don't like to see if messed up and many a time it has been. Only the bravest of brewers dare take on Red Ale and only Rascals have ever nailed it. I've had others but this is what Rascals does best (and they do A LOT well).
This is what I call a porting drink. You've been drinking Guinness or Smitwicks and you think craft beer might been for you. The flavour profile of Big Hop Red isn't wild but it's just damn solid and damn good. Doing the simple things well is often forgotten in the craft world.
Best Stout: The White Hag – The Black Boar
I don't know what to do with The Black Boar. I've got a mini motto for stout drinkers. The perfect pint of Guinness at home, isn't Guinness. Whatever it is that people think they love about Guinness that justifies a slab of 24 cans needs to be unlearned. Ice cold cans and various methods of pouring can't replicate what makes Guinness unique. The draught pint. So stop chasing it. Broaden your horizons and carefully delve into the world of The Black Boar.
Now, there's no question that The Black Boar is taking Best Stout. The problem I have is that The Barrel Aged Black Boar could just as easily take the next award too. But because it's tight, a photo-finish even, I'm going to dual-recommend both variants of The Black Boar here. Amazing stout but just be careful. It's strong beyond logic and goes down far easier that you might thing. Also, don't worry about the "ice cold" goal here. Just get it to about 8-degrees. I leave mine outside. That's plenty cold.
Best Barrel Aged Stout: Dot Brew – A Bit of Barrel Aged Birthday Blend
Now, I'm fairly certain I've had this from a can and on tap but don't hold me to the latter. Behave yourself again with this one. It's strong and again you won't taste it as a wild mix of accoutrements are involved in this brewing process.
There's a mix of Red Ale, Amber Ale and Stout mixed in rum and bourbon barrels. The result is nothing short of amazing. Dot Bew has released some absolutely wild and wonderful beers, particularly stouts, with this one being absolutely worthy of their birthday celebrations.

Best Desert Stout: Birrificio Lambrate w/Ølkymisten Tiramisu
There have been a few characters in the craft beer industry I've come to love purely for the craic. Giampa from Birrificio Lambrate is one of those icons.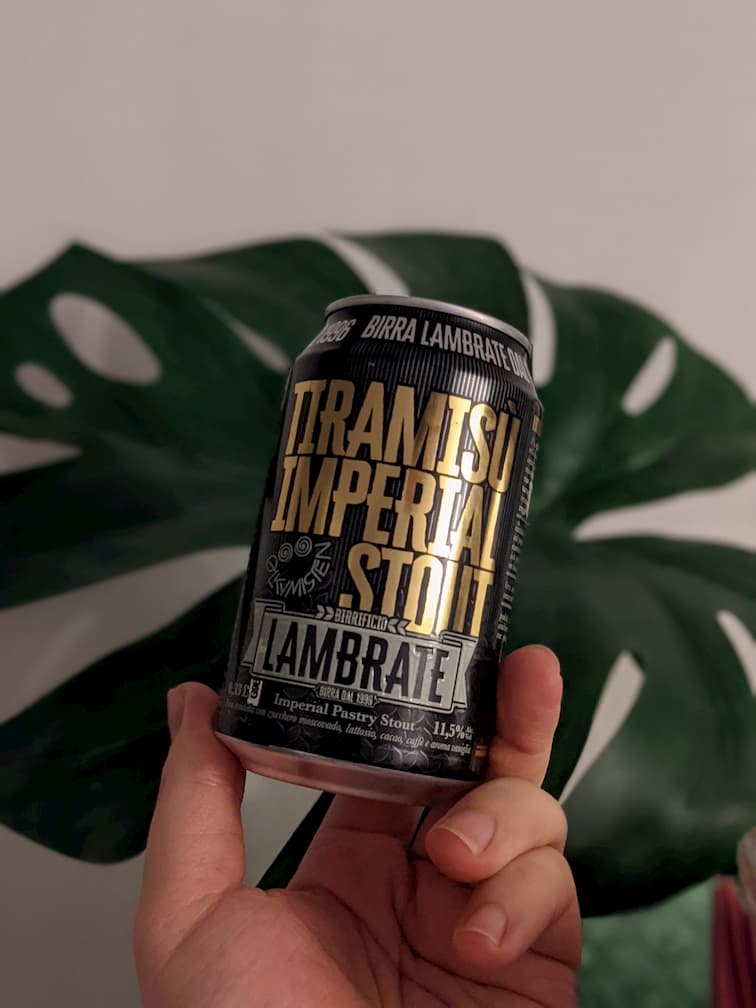 Now, this isn't about him but next year I may have to create an award just for him. Or name an award after him. No, this is about a collaboration between the Italian brewer Birrificio Lambrate and Ølkymisten.
This imperial pastry stout had a tough year to try and snap up "best desert stout" but they did it. The pangs of coffee and vanilla are just magical. It's everything and more that you would hope for when it comes to a stout called Tiramisu from Milan.
It will be hard to find, but do look for it. It's worth the search.
Best Collab Beer: Johnny's Off-licence and The White Hag
I have a funny take on collab beers and it might peeve purists. Sure, I want my collab beers to be amazing and that's exactly what Malafemmena was. A dank DIPA that made sure you knew you were drinking it. But beyond that there was a story. It was a great beer, with stunning and I mean stunning can art that came close to winning design of the year and two fascinating collab partners.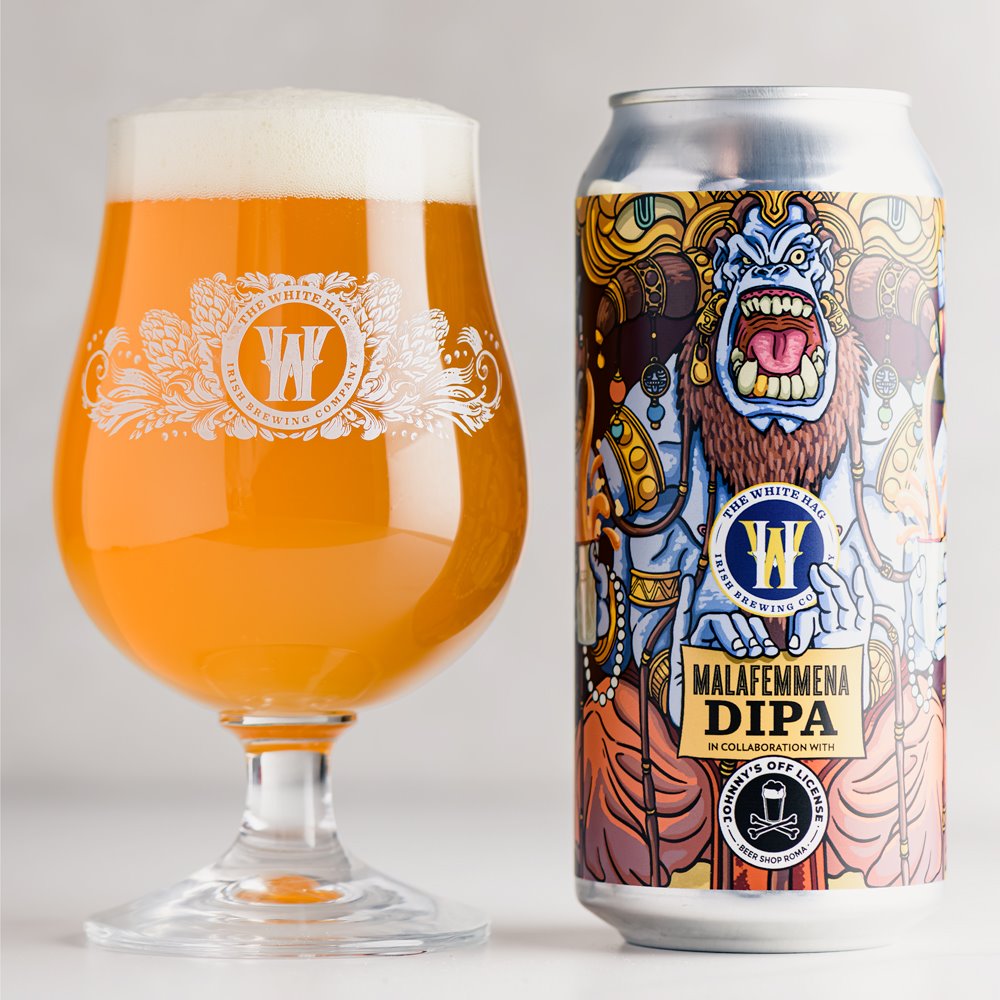 The White Hag, probably the most exciting beer producers in Ireland today and Johnny's Off-licence in Rome. Italy was in the midst of a global pandemic when I virtually got introduced to Johnny's Off-license but still I felt something special emerging. They were a spot for people to take their mind of 2020 and who wouldn't want that.
And, to round it all off, the DIPA was stunning.
The Craft Beer Brewers And Retailers of 2020
Let's move away from my tastebuds and focus in on the companies. They've had a very rough year. Remember, when the pubs close the suppliers suffer too. So it's been a year of innovation, adapting and fighting.
Best Newcomer: Connemara Brewing Company
The staycation trend around the middle of the year saw me visit some of the Aran Islands for only the second time in my life. Feeling like a bit of a hipster, I asked the bar on one of the islands if they had any craft beers. I got a gorgeous pint of Connemara Ale placed in front of me and was blown away. The Connemara Brewing Company have started out small with a primary focus on the West but I see big big things coming when things get back to normal.
There was something very familiar yet totally different about the ale I got to try. It starts you out like any other ale, before hitting you with some mild fruitiness and landing you back down with balanced aftertaste. Another to go on the search for.
Can Design Of The year: Yellow Belly – Paul's On Holidays
I'm not even sure if this was this year or not but I just love this story. Yellow Belly have some of the coolest can designs on the market but the coolest of the lot was nothing.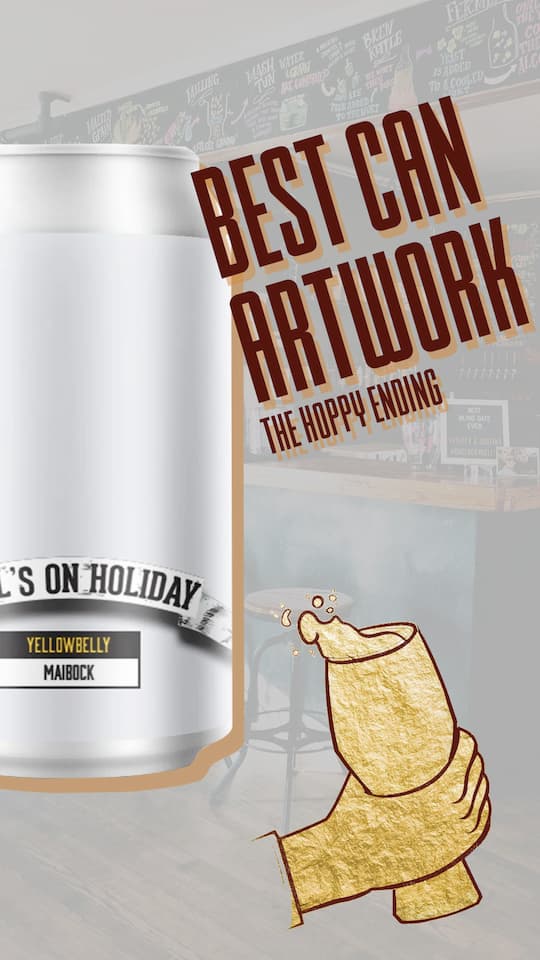 Paul's On Holidays, I've been told, came about because the resident can designer was on holidays. So, the blank can was born. Beautiful. I just love that. Silly things get me everytime.
Innovation Award: The White Hag – Online Launches
I'm a bit biased here as I ended up on one of The White Hag's streamed launches myself before. It was my first public appearance speaking about beer to a community of beer nerds, chatting with the people behind The White Hag. That's two people who knew what they were talking about. I survived and so to did the Hag's series.
The White Hag has certainly been a beacon for Irish business, not just brewers. Between COVID-19 and Brexit, the Irish economy is sensitive right now but rather than sit back and hope for the best, The White Hag has pulled out all the stops including:
Moving their annual beer festival online – Boxtravaganza
Launching beers online with Between Two Ferms
Hosting an Oyster Stout evening online
That's just some of the things I got to sample but they're now also hosting Christmas parties for companies. David McWilliams said that "in a crisis you can only buy yourself more time" but that's been proven not true by The White Hag who've strangely managed to strive in, not just survive, 2020.
Best Growler Service: Underdog
There came a point in 2020 where cans just didn't cut it any more and I needed a pint or at least a 2/3 pint. I start looking around for growlers. I learned how to care for growlers and also where to pick up some like 57 The Headline and even Brewdog who'll seal up a can for you with their crowler.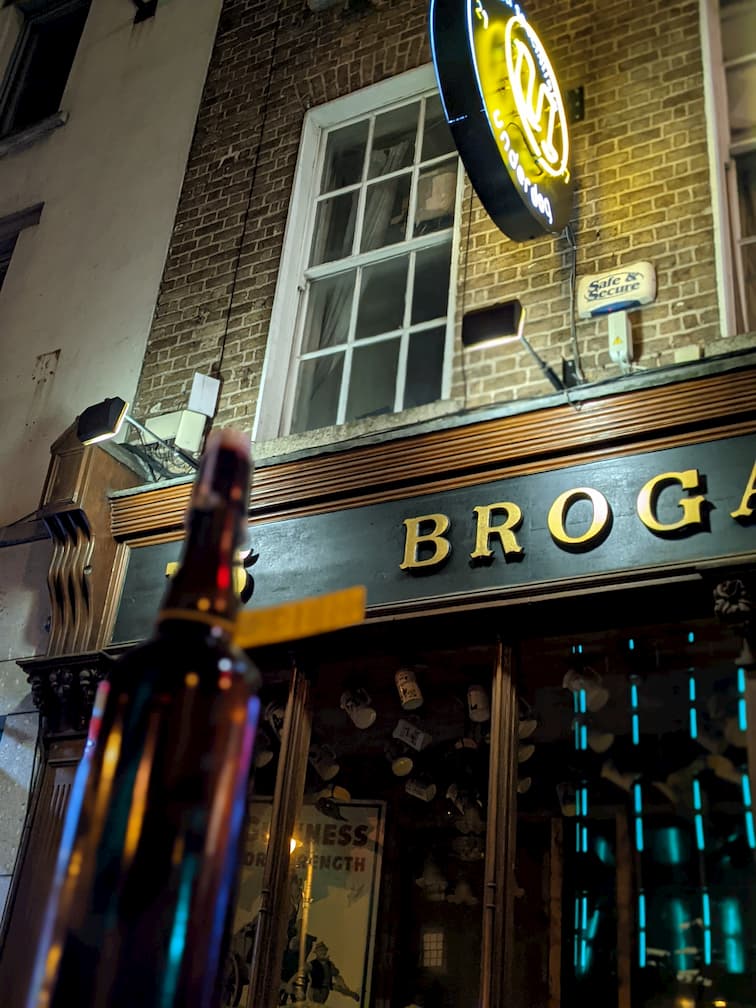 Some honourable mentions there for some of my favourite haunts, but only one can be the victor. Underdog featured in our Crafty Beers Series and boasts a selection of beers that are just a little bit more niche. You come here to get something special that can't be got anywhere else. When I've felt it was time for a treat, a visit to Underdog usually followed. A happy crew down the stairs too, always happy to see you pick up a few beers and offer a quick chat before getting back on your way. Magic spot.
Best Retailer: Craft Central
I can't say enough good things about Craft Central. The obvious bits and pieces are the incredible selection of beers, ever-growing online shop and incredible delivery work with both the Craft Central team and DPD. I have so many positive stories about Craft Central.
I ordered some beer to Kilkenny at something like 5PM and it arrived the next day, a Saturday before 9.30am.
I bought some nearly sold out beer for my brother-in-law and they popped it into his order before it went out.
They've teamed up with various breweries and made some cracking beers of their own.
The team in the shop whether it be in-person or over social media are just incredibly helpful. Another fantastic example of the craft beer industry being a leading example for online commerce in Ireland.
The Hoppy Ending Brewery of the Year 2020
There were plenty of breweries that impressed in 2020 but only one to a level that puts them in a different category. The White Hag has not only strived in a year where many aimed to survived but they've seemingly grown into a bigger beast than ever.
The Sligo-based brewery churned out quality beer after quality beer with various ambitious events and series hitting shelves at a rate that no other brewery came close.
Despite constantly churning out volumes of beer, quality never dropped and now when a new beer from "The Hag" lands, it's a must sample because you know it's going to be good. From their Smash Series to old favourites like Atlantean, Little Fawn and Fionn which also wins the hangover of 2020 award it's just hit after hit.
The Hoppy Ending Beer of the Year 2020
And with all of that said, it's no surprise The White Hag takes home the 2020 Beer of the Year Award too. Some worthy opponents in a close-run race:
Trouble Brewing: Ambush IPA
Garage Brewing: Mosaic Escalator
Drunken Bros: Hop Eruption
Kinnegar: Big Bunny
Lervig: Bad Haircut
I could keep going but that just wouldn't be helpful.
Narrowing down a year of excellent beers from The White Hag is damn difficult. I'm realising there's a temptation to do an entire ranking of beers from the Sligo brewery I've drank, top to bottom.
But for now, we need a beer of the year and I don't think it's a surprise. Based on amazing flavour, re-drinkability, value and longevity it just has to be the New England IPA, Atlantean.
If I was do be stuck on a desert island with one slab of beers, it would be this. A slab of Atlantean and a whole lot of questions about how I got there.
How much do you disagree with the winners and losers of the 2020 Craft Beer Awards? Let us know! We want to discuss it!