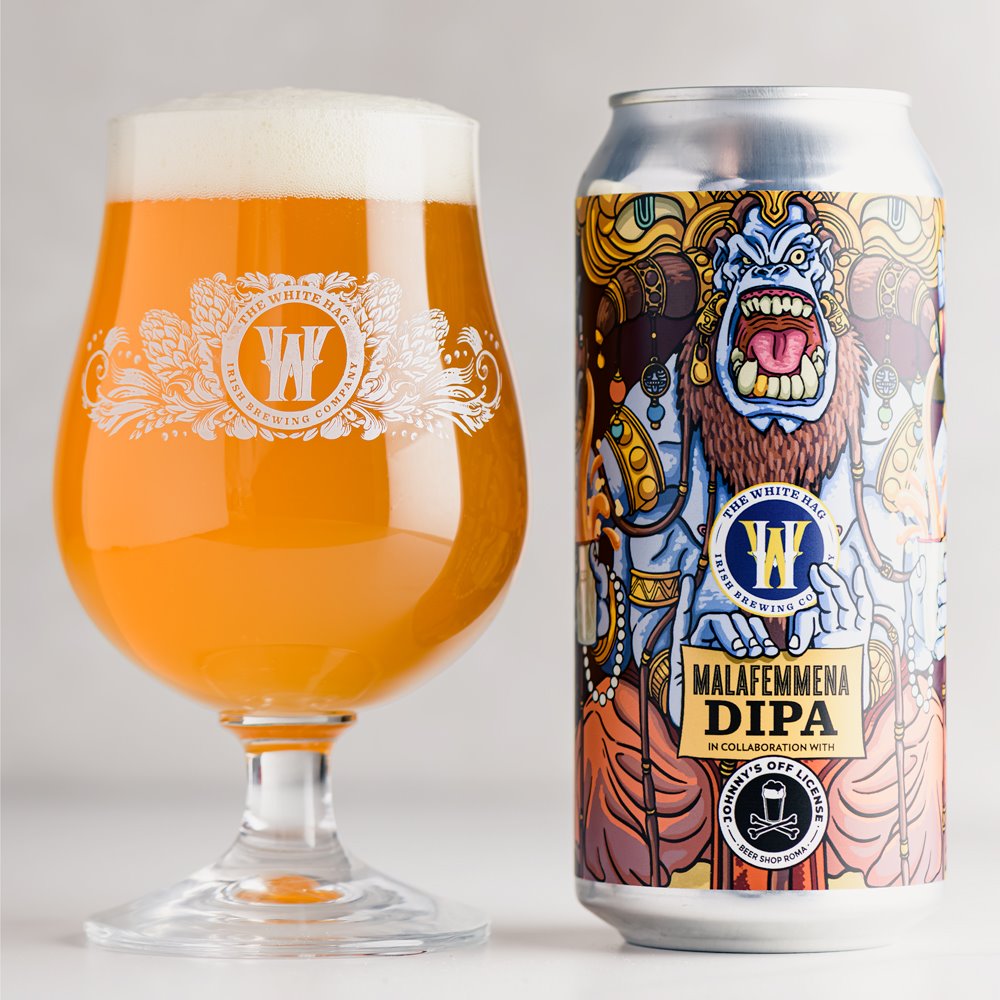 Over the past few weeks, some things have changed. I'm watching a Liverpool defender playing a Wolves winger on Sky Sports of a Saturday. Another thing that's changed is beer launches going online. The White Hag, hailing from Sligo, are leading the way with these. They've spotted that people in isolation are in need of a bit of craic. It works too because I just jumped up off the couch and celebrated their tweet announcing their next launch – a DIPA called Malafemmena.
The Story Behind Malafemmena
I stand to be corrected, but I believe this is just the second DIPA in recent times to emerge from the Sligo brewery. The Malafemmena DIPA has been a collaboration on the cards for quite some time seeing the Sligo lads team up with John Nolan of Johnny's Off License Group in Rome, Italy.
Name and Can Design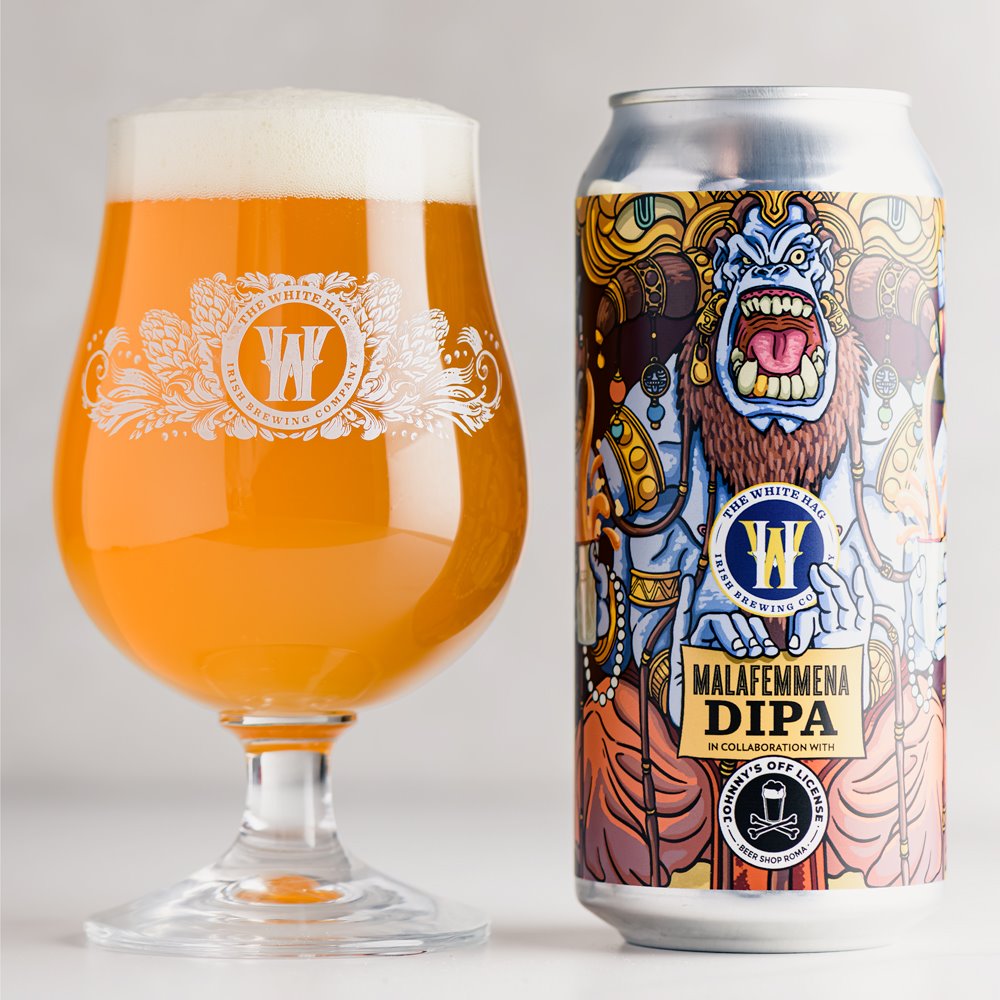 The name might seem a bit mad on Irish shores. Unfortunately, that's because this is going to be a very limited run with the focus being the Italian market. If you see this on the shelves of your local off-license, you really better grab it. The design is even madder.
The Name
Malafemmena is something which Italians will be much more familiar with. It's a song written by Totò in 1951 but has reached fame by being covered by countless artists. The song itself is about a man feels betrayed by his wife who he refers to as "Malafemmena" or Evil Woman. For me, there's more to the story. She was a woman who lived life to the max regardless of what people thought. Imagine the 1920's flappers.
The Can
The can design, I adore. The artwork is by Ivan Cappelli, a well-known tattoo artist in Rome.

If I'm honest, I adore it for a very nerdy reason. I'm a big Monkey Island fan. It's a classic point-and-click adventure game and the character on the can resembles the bad guy, LeChuck from that very game. A closer look tells me it's not LeChuck. I'm not sure what it is exactly, but it's cool and I love it. It's a six-armed blue demon with beard and "Viking" horns.
What to Expect from Malafemmena
I'm massively excited about this one. This 440ml DIPA promises to be all kinds of juicy and refreshing. My excitement is the reason I'm making this our featured beer of the week.
Not only is Malafemmena a Double IPA (probably my favourite/second favourite style) but it promises to smack your pallet with citrus, tropical passionfruit, guava and just a subtle hint of pine.
I'm salivating here just thinking about it.
How to Enjoy Malafemmena
Malafemmena launches this Tuesday but, as I said, the focus here really was Italy so most of this batch has said Ciao. The good news is you can pre-order straight from The White Hag website as part of two mixed cases.
The Malafemmena Mix Case with 24 beers made up of 8 Malafemmena, 8 Little Fawn and 8 Atlantean. That's three stunning beers in a €77 pack.
The Savage 6! is a Sour and IPA Mix Case with 24 beers made up of 4 Malafemmena, 4 Little Fawn, 4 Atlantean, 4 Púca Ginger & Lime, 4 Warrior Queen and 4 The Dark Druid. You can pick that pack up for €69.
If you're lucky enough to get your hands on a few tins of this DIPA resist the urge to tuck in straight away. On Friday, you'll be able to take part in a live online launch with The White Hag team. Keep an eye on their social media, and ours, for more details!
---
Buy This Beer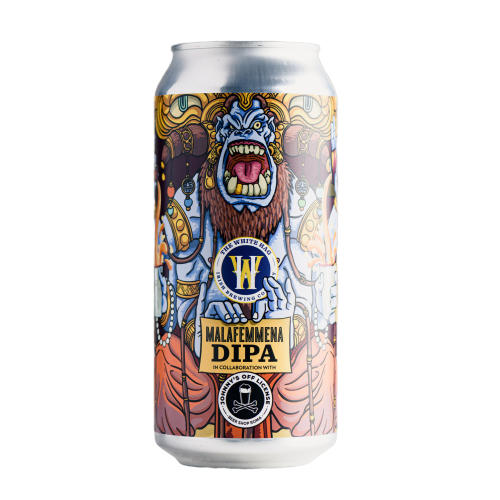 Malafemmena DIPA
---
Brewery
The White Hag
w/Johnny's Off
License

Where?
The White Hag
How much?
TBC
Special offer?
No
Vessel
440ml can
ABV
TBC
Delivery?
Yes
Delivery Fee?
No on orders
over €60