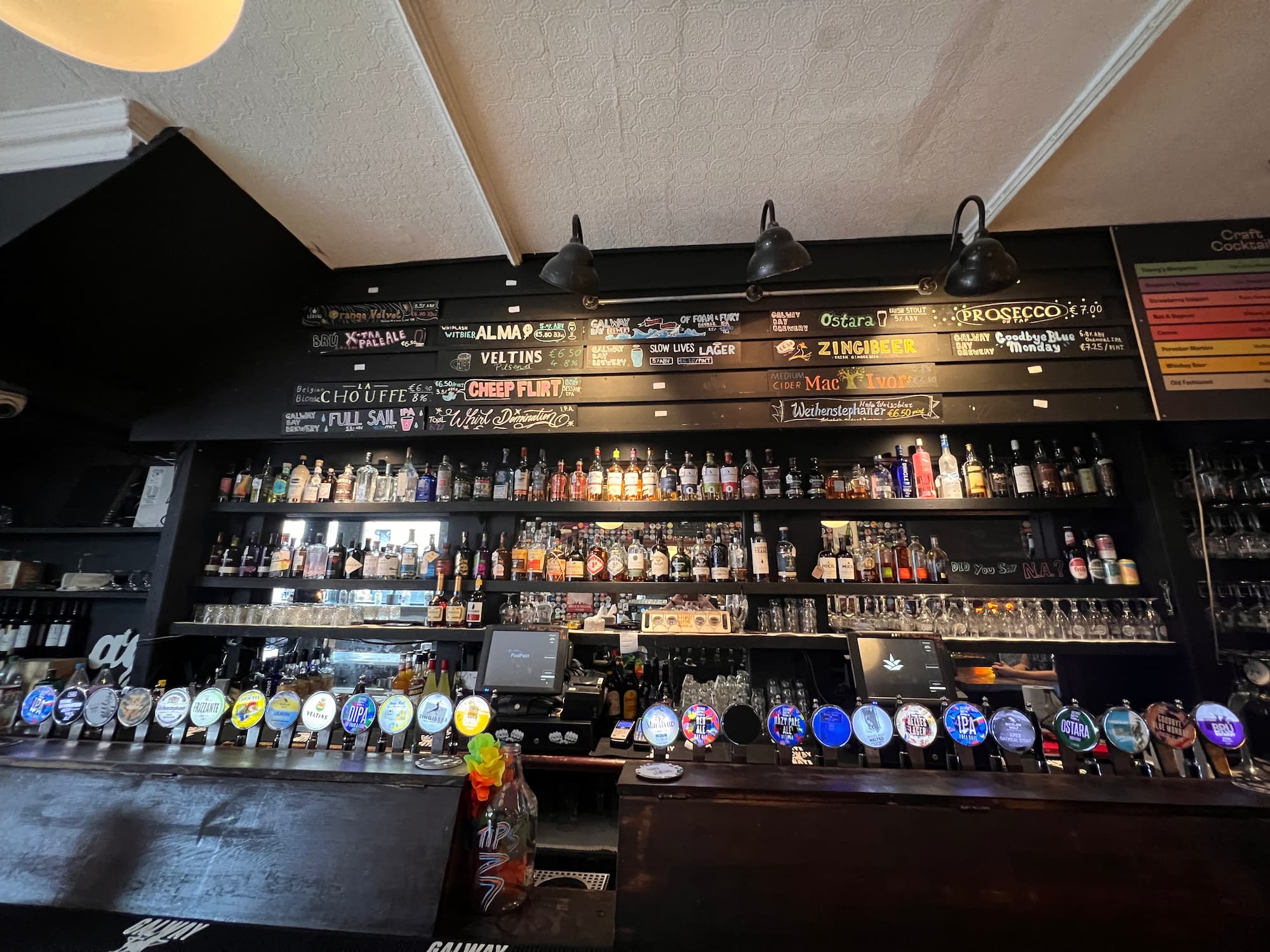 I've been living in Dublin City Centre now for nearly ten years. Dublin is a big city with a small footprint. You get to enjoy all the cultural diversity of a capital but without the hassle of it taking hours to travel from one side to the other. So, if you're visiting Dublin City and want something a bit more meaningful than a trip to The Temple Bar, here's what to check out. It's favourite craft beer bars in Dublin.
Porterhouse Temple Bar – Irish Stout (Oyster Stout)
I live in Dublin. More accurately, I live in Temple Bar. The place is a tourist trap from morning to night. But there are some exceptions if you're clever. The Porterhouse in Temple Bar is a must-visit for people seeking a craft beer in Dublin City.
The Porterhouse in Temple Bar is Ireland's (not just Dublin's) first-ever brew pub. That's enough to earn your interest. The beers on site earn your visit.
Here, you'll find some marvellous beers. There's something for everyone including a wide selection of bottled beers that includes the best of Belgian to be found in the City Centre.
But perhaps best of all is the famous Oyster Stout.
I was recently in this bar when some American visitors were leaving because they couldn't get Guinness. It made me sad. Guinness is owned by LVMH (France) and Diageo (UK). Yet the Porterhouse Oyster Stout is brewed here in Ireland but a completely Irish-owned company.
Now, I refer to it by its old name; Oyster Stout. Today, it's been renamed simply as Irish Stout. It's beautiful to drink and will give you the authentic flavour of Irish stout; just like the other one you're thinking of getting.
If you've been told to visit The Temple Bar Pub for a "pint of the black stuff" I fully recommend this detour instead.
Beer Market/Beer Temple/Against the Grain – Althea
If you're right in the heart of Temple Bar, head to Beer Temple. If you're further towards Christchurch and Dublin 8, seek out Beer Market. If you're closer to the Stephen's Green area, it's Against the Grain you're after.
Galway Bay have grown their footprint massively in Dublin City Centre over the past few years. They've taken over operations at Brú and bought several spots around the city focusing on both food and beer.
The beer I recommend from Galway Bay is Althea. It's a easy drinking nice Pale Ale. Quite approachable and a great way to ease yourself into a bar you're not that familiar with. Galway Bay bars have plenty of choice to offer, including some great guest beers too.
One caveat comes with attending a Galway Bay bar though. Ask what's pouring well. I've just recently discovered this makes a massive difference in these bars in particular. That's the difference between an "ok" and a "great" experience.
If you find these bars are all a bit too far away, you can also check out Brew Dock or The Black Sheep. Galway Bay really do offer a wealth of City Centre locations.
Urban Brewing – O'Hara's Red Nitro
Will you find yourself up at EPIC? EPIC is one of Europe's best-known and loved tourist attractions. For that reason alone, there's a good chance you'll be within a stone's throw of Urban Brewing. Urban Brewing is a long-standing brewpub in Dublin City. Owned by O Hara's, you'll find a mix of beloved O Hara's favourites, in-house brews and some lovely tapas food.
Now, the in-house beers are ok. But that's the best I can say about them I'm afraid. I've always found the beers to be slightly off-style or served somewhat poorly. But don't let that rule out a visit.
You can still get a much more established beer in Urban Brewing. Personally, I would recommend the O'Hara's Red Nitro. This is a classic Irish Red Ale served with a burst of nitro. The result is a gorgeous grain-forward red ale with a lovely creamy mouthfeel.
I'd argue it's one of Dublin's best red ales plus the food is good there, if not a little expensive. You should be able to score a discount after EPIC though so box clever.
Rascals HQ Inchicore – Wunderbar IPA
For a long time, I was steering clear of Rascals. For me, the problem was the location. What I didn't cop for a long time was just how easy it is to get to Rascals. The brewery is based out in Inchicore but is just a short walk away from the Blackhorse Luas stop on the Red Line. This means you can catch the Luas near the Spire on Abbey Street and be sipping on freshly brewed beer in a brewery within 30 minutes for just a couple of Euro.
Now, once you're there, Rascals serves up a wide selection of beers. You'll be spoilt for choice. If I had to recommend one, I'd say stick to the core range. Wunderbar IPA is my goto beer from Rascals and it's never let me down.
If you ask nicely (and pay for it obviously) you can even do a tour of the brewery. The pizza they serve is whopper too. Don't be intimidated by the Luas trip – it's well worth it.
Street 66 – White Hag Ninth Wave
Another entry for Temple Bar shows there's a lot more to this lively area than just overpriced Guinness and stew. Street 66 is a welcoming bar for the "global citizen". Within these four walls, you'll find an amazing range of gin and cocktails. But you'll also find a nice little stash of craft beer too.
Honestly, it's surprisingly hard to find Sierra Nevada on tap, but here it is. But I'm not going to push an American beer here. No, no. It's another beer from Sligo in honour of the bar's Sligo co-owner Siobhan Conmy.
Ninth Wave is a lovely big-hop American Pale Ale. It's juicy but not overly so. I'd probably keep this for a sunny day, but don't be caught waiting too long for one of those in Dublin.
The Thomas House – Trouble Brewing Ambush
A trip to Dublin, in my opinion, isn't complete without visiting the Liberties. It's authentic Dublin. You'll find lovely cafes, markets, and street vendors selling fruit. It's what Dublin could easily have ceased to be, but refuses to lose.
Here, you'll also find The Thomas House. This is an awesome rock bar serving great beers. You'll find old-school staples that your macro friends enjoy and excellent Irish craft beers.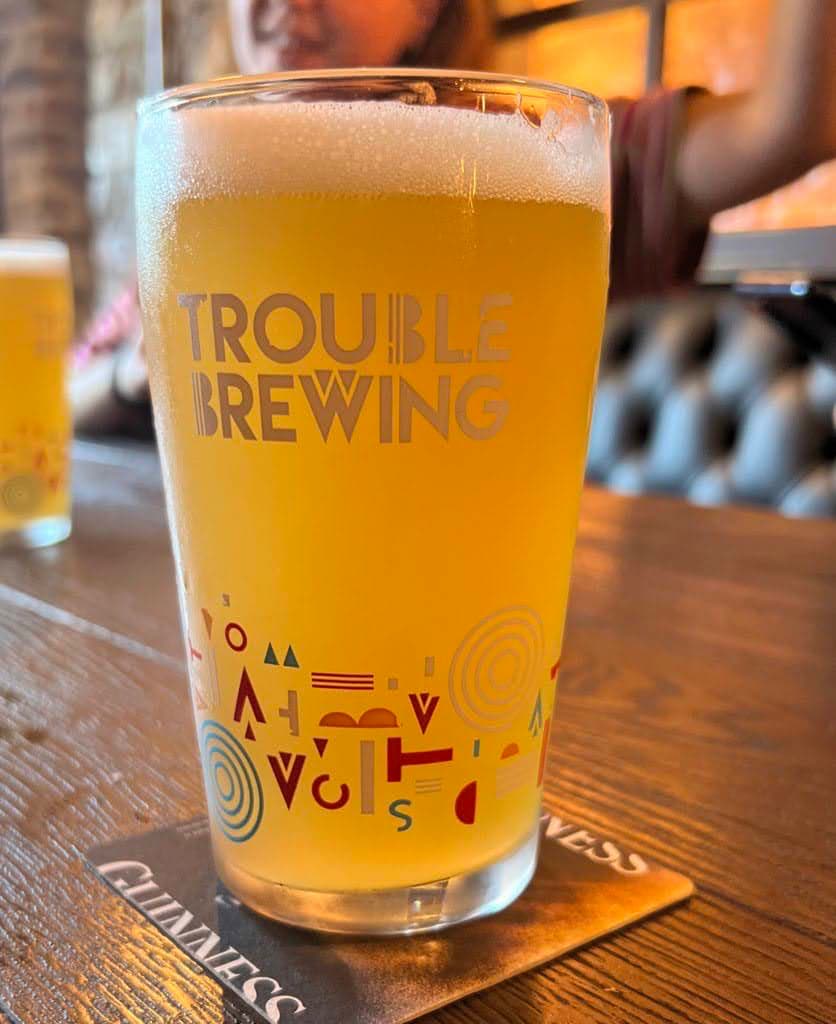 My tipple of choice here is the ever-wonderful Ambush by Trouble Brewing. It's a real fruity hazy IPA. I mean it's a proper fruit bomb. It pours well in nearly every bar in the city. For that reason, I'll also give a big mention to Dockers over near Sir John Rogerson's Quay. Very unlikely most tourists end up here but if you do, this new bar does a wonderful Ambush.
Note: it's mandatory you tweet "I'm back on the Ambush" when drinking.
Tapped – White Hag Atlantean
We used to have two Porterhouse bars in Dublin. The one in Temple Bar that I've already mentioned, and another off Grafton Street. That one on Grafton Street has just been refurbished to be all fancy and modern. With the lick of paint came a new name; Tapped.
While my earlier recommendation stands, there's something special on tap here too.
Tapped boasts over 50 taps serving craft beer, wine, prosecco and cocktails. But let's stick to the beer. One of those taps is Atlantean by the White Hag. A lovely fruity NEIPA. Arguably the best Ireland has produced. Here in Tapped is probably the best way to drink it inside The Pale (that's how we Irish refer to the Dublin region).
57 The Headline – Geoff's Choice
Near Portobello, 57 The Headline is typically one for locals. But that's due to the location more than anything. You'll be welcomed here by the owners in a warmer fashion than most pubs in Dublin! It's just not your typical tourist area, that's all.
The beer here is poured by people who care. The food is cooked by people who know food. You're as likely to find local homebrewers sharing their wares here as local celebrities digging the food. It's a wild crossroads of the Dublin food and drink scene that just has to be seen if you're in the area.
They change their taps regularly so this one is Geoff's choice. Ask the team behind the bar what's pouring well and sit back and relax.
Underdog – To Be Decided
A beloved haunt of Dublin for many years was Underdog. I didn't appreciate what was around the corner only to find it closed due to building issues during the lockdown. I'm planning on this guide being updated a fair bit in the coming months, and Underdog will bring one such big update.
The team behind Underdog properly love craft beer. I mean, they live and breathe it. While it was sad they closed, the Dublin beer scene is electric to hear they're taking over at The Legal Eagle in late October. So if you're arriving in Dublin City around then, it's worth checking it and seeing if Underdog is back or not.
The big shout here is if you're doing Rascals and taking the Luas. Just jump off at the Four Courts stop and you're a 1 minute's walk away from this new location.
Honourable Mention – Craft Central
As much as we all love craft beer, we can all also admit it's a pricey passion. So if you're going to be in Dublin for a few days or even heading to the West for a bit, you might want to stock up on a few beers for your hotel room. Craft Central is an unassuming newsagent near Stephen's Green.
I couldn't even tell you if they do newspapers because I'm straight into the back where you'll find beer fridge heaven. Everything from Ireland's best craft beer to random imports you'll find nowhere else. Honestly, check this out.
Staying in a different part of town or Ireland and want some ideas? Drop us a DM on Instagram and we'll gladly give you a steer. These are just our favourite craft beer bars in Dublin. We have more outside the City Centre and beyond Dublin itself!