If there's one thing that we enjoy as much as an ice-cold craft beer, it's a fine Whiskey It's easily one of my favourite gifts to receive. I would never dream about taking the shine off the gorgeous golden nectar that we produce on our tiny island but I do particularly enjoy getting a dram of Japanese origin… there's something about the dedication and meticulous attention to detail that the Japanese malt makers apply to the craft, as they do with anything they apply themselves to.
Getting a Bottle of Togouchi
I was lucky enough to receive a bottle of Togouchi 9-year-old blended whiskey for my birthday and was immediately intrigued by the beautiful bottle.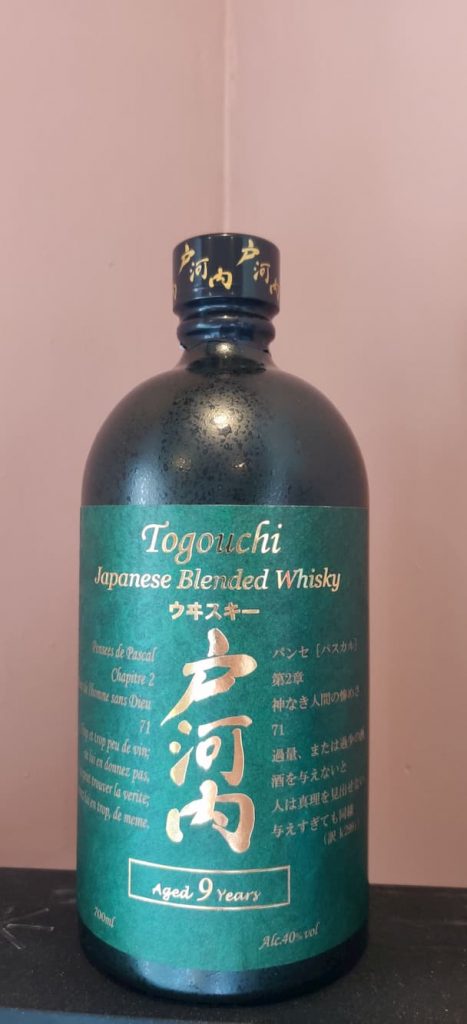 It looks like something that you would receive at the end of a quest of a JRPG by defeating a duo of flaming beasts. A life reviving elixir. That's generally a fitting description for Whiskey.
Tasting the Togouchi
It's described as a nod to Scotch and Canadian whiskey and on the nose, there's plenty of peaty smokiness as you'd expect from good scotch. I'm also getting apricot, caramel and citrus rind with hints of clove and cinnamon.
Going down, the first hit is peaty smoke, with a nice rich burn to it. This is definitely closer to Scotch than other Japanese whiskeys I've had. It then begins to mellow out with a rich poached plum in the aforementioned spices.
It finishes caramel sweet with the rind of lemon, bitter orange and star anise. It's a little thinner on the mouth coat than I was expecting, not as round or rich than I've had in whiskeys at this price range but it's still a divine drop and certainly a nice way to kick off my birthday libations.
Kanpai 喝采
---